I'll be honest, selling a house with subsidence is not easy. In fact, selling any house is difficult – you have to prop up the property, make repairs, put it on the market, cut some deals to get buyers if you aren't lucky, and even then, there's no guarantee you'll find your buyer immediately.
It takes about 63 days to sell an average house when you put it on the market until the closing day. And this number will skyrocket when your house has subsidence.
Subsidence is the sudden sinking of the ground that might even end up with your house getting collapsed if the problem is severe. If not that, it can cause comparatively smaller yet still expensive issues that can occur because of human activity or just for natural reasons.
Unfortunately, it'll happen randomly, i.e., it won't be horizontal. This means your house could start tilting as one side sinks more than the other, which will cause cracks big enough to matter a whole lot.
All of these issues (and more) could collapse your sale, if not the house, for countless other reasons. Let me tell you how to deal with them based on my personal experience in Atlanta (GA)'s real estate market.
Can you sell a house with subsidence?
Both buyers and sellers dread subsidence – for sellers, it could mean an opportunity loss of tens of thousands of dollars on the property value. For buyers, it means getting a mortgage is harder than ever.
Most mortgage lenders will send your dear buyer away from the door. And the ones who will be interested in financing the sale will charge massive premiums, which could be a financial hit for your buyer, and in turn, for you. Why am I telling you all this? Any financial problem for your buyer is your problem because it could delay the sale inevitably.
So, is it impossible to sell a house with subsidence? Not quite.
Selling a house with subsidence is possible but a bit more difficult. You have to be brutally honest with the buyers and agents about the severity of the issue and be ready to wait for a longer-than-average period at a much lower property value. This could be an issue if you want to sell quickly.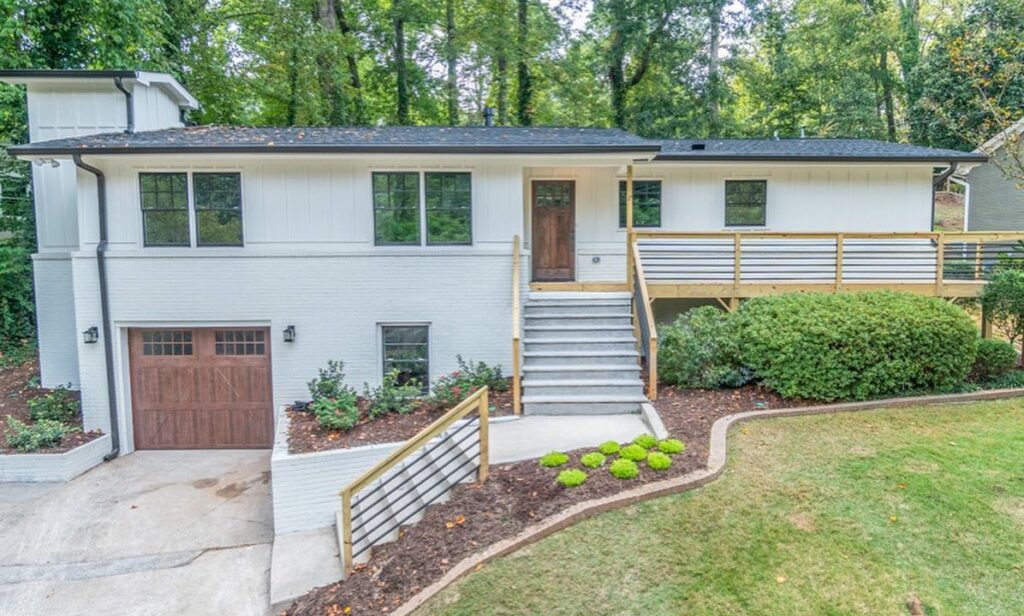 1. Can subsidence devalue my property?
First, find out the extent and reason of your subsidence. Subsidence can be caused by flawed foundations, nearby trees and shrubs, clay soil, and leaking drains for various reasons.
Also, check out if you really have subsidence – cracks in walls could appear for reasons other than subsidence as well.
Subsidence cracks will be found both inside and outside the house, and they're more than 0.12 inches wide.
Cracks usually appear around doors and windows. They may also cause the doors and windows to stick at the bottom because of the slanted position of your house.
Subsidence cracks are usually diagonal and thicker at the top than at the bottom.
If the cracks on your walls don't follow these patterns, refer to this chart once. It'll help you identify the reason you have cracks. If they do follow the patterns, then you're in a pickle.
Subsidence can devalue your property by 10-20%, according to various independent studies. Based on a recent report from realtor.com, the median selling price of a single-family home in Atlanta, Georgia, is $345,000 as of January 2021. So, in this case, your sale price would be around $276,000-$310,500.
2. Do I have to disclose subsidence on my property?
In short, yes.
You must inform the buyer, your realtor, property lawyer, or any other professional involved with the sale about the subsidence problem in your house. You're legally required to do so, and misrepresentation will most certainly get you in a whole lot of legal trouble.
There are many stories about sellers not informing their buyers about the subsidence issue by covering the cracks to make the sale happen. Thankfully, I'm yet to see such a foolish act myself, but it's apparently common. Will you sell your house at top dollar? Yep. Will you end up in jail or face a costly and unwinnable lawsuit? Oh yeah.
Read More: Selling a House: Most Common Neighbor Problems & Their Solutions
US law requires you to complete a Property Information Form (PIF) that mentions all the details about your property. You'll have to disclose mine subsidence, underground pits, or other earth-stability issues. Failure to do so will get you into legal trouble.
Suppose your property is listed in California and is in a seismic hazard zone. In that case, California's Natural Hazards Disclosure Act requires you to disclose that it could be subjected to liquefaction or landslides during an earthquake.
In some cases, sellers believe that the disclosure is unnecessary, such as if the seller or the house's previous owner resolved the subsidence issue. Unfortunately, there is no statute of limitations, so you'r legally required to disclose it every time you sell the house, apply for a remortgage, or anything that requires financing.
Although, there's a cheat method to sell your house fast, with full disclosure and at the best possible rate. Don't worry, I'll tell you all about it.
How to sell a house with subsidence?
Unfortunately, subsidence is a burden that you'll have to bear or strike a deal with your buyer. One way to do this is to get the property surveyed professionally by yourself – even before putting the house on the market. Once you have all the numbers (repair costs, property value, etc.), it'll be easier to make a decision.
The most important thing is to take action as fast as possible. I mean, your house is already slanted; how much more do you plan on waiting?
1. Underpinning
As I mentioned earlier, subsidence is not the end of the world. Houses with subsidence are bought and sold frequently on the market; it's just a bit more expensive. The final answer to the rather severe cases of subsidence is underpinning.
Underpinning is the process of strengthening the foundation of your property to prevent further subsidence. It doesn't require full-on construction work that pauses your daily life, but it will cost around $60,000-$80,000 to fix.
Although you might not need underpinning if the subsidence is not severe yet, and even if you do, subsidence costs are generally covered in your insurance policy. Still, there is a caveat in that your insurance policy won't likely cover the entire amount.
Read More: How to buy a house while selling your own: Steps, Tips & Precautions
2. Sell at a Lower Price
Another way to do this is to cut a deal with your buyer and shave off some tens of thousands of dollars on your home price. On average, a house with subsidence is sold at a rate 10-20% lower than a house without subsidence.
3. Sell Fast at Best Possible Price
The easiest way to sell a house with subsidence is to sell it to Real Estate Acquisition companies or other full-cash buyers. You'll be able to sell your house fast (ideally within 10-14 days) and at the best possible price. You'll also save 6% of the realtor cost.
At JWS Acquisitions, we buy property full-cash to rent or rehab and sell. That's why we're able to finish the sale within a week or two and give you the best market price for your house. You won't have to worry about mortgages, various closing costs, and realtor payments with us. Get your free offer within 24 hours!