The quest for finding renewable sources and the conservation of non-renewable energy is a bigger deal than ever these days. We're running out of non-renewable sources, and the entire industry (from extracting to consuming) is an enormous burden on our environment.
One ongoing solution is the generalization of renewable sources of energy such as using solar panels at home and electric cars instead of petrol cars. This country's bright minds have taken this idea to a new level with the advent of net-zero homes.
Unfortunately, good news doesn't travel fast enough as public awareness about these homes are much lower than you may think. After 20+ years in Atlanta's real estate market, I decided to change that by writing this guide.
In this guide, I'll explain everything I know from experience about net-zero homes—from what they are and how they work to whether you should consider buying them or not. Let's jump right in.
1. What is a net-zero home?
Net-zero homes aren't your traditional houses with solar panels on the roof.
Net-zero homes or "green homes" are houses explicitly designed to produce as much renewable energy as they're consuming. This brings your energy consumption costs to almost zero and significantly reduces your carbon footprint.
These net-zero homes not only have solar panels on the roof and in other areas, but they're also tightly insulated and specifically designed to lose the least amount of energy and instead use every joule of renewable energy to its maximum potential.
According to CNBC, the U.S. had a total of 5,000 net-zero homes for single families in 2019, and California alone was set to add 100,000 by the end of 2020.
The real science behind making such an outstanding achievement is a bit complicated and, frankly, something you shouldn't be worried about. The concept, however, is pretty simple.
First, the idea behind net-zero homes is that you return the amount of electricity you take from the grid (hence making your net consumption zero). But it's not as simple as using a few solar panels because you won't get enough electricity that way or be able to use it efficiently.
In our current homes, we tend to lose a lot of energy through poorly insulated windows, doors, and insulation. How does that relate to electricity, you ask? In a hot area, poor insulation can increase the use of air conditioning. That's why preserving energy within the house is very important.
Net-zero homes primarily focus on design and insulation so that no energy is wasted or dissipated through windows, doors, or the house's foundation. To achieve this, you'll need an expert team of builders, architects, an energy consultant, and a mechanical engineer to design the most effective HVAC system (heat, ventilation, and air conditioning).
Here's a quick shout-out to the folks at the Zero Energy Project – a non-profit that has been doing a great job of spreading awareness about net-zero housing to buyers, builders, architects, etc.
A. Who builds net-zero homes in the US?
There are over 500 zero energy home builders, according to the Department of Energy (DOE). People believe that these homes are either not affordable or not available locally, but that's not entirely true. You just need to know the right person to ask.
And I don't mean realtors; you should consult with an expert whose income isn't tied to their sales commission. One of the best options to do so is consulting with a real estate acquisition company like JWS Acquisitions.
According to Zero Energy Project, "Zero Energy houses are available everywhere in every shape and size. Across the U.S. and Canada, you will find many styles of zero energy homes – from colonial to modern, to craftsman, or ranch and everything in between."
The University of Georgia, Moultrie Technical College, and the Tift County Foundation for Educational Excellence did a demonstration some time ago by building a "net-zero college house" in Tifton, Georgia.
Along with various individual establishments, we have a few zero energy housing communities in the United States. The major ones being Kaupuni Village (Hawaii), Living Zenith (Utah), Red Fox Crossing (Wisconsin), and De Young EnVision (California).
B. Difference b/w Passive House & Net Zero Homes
A passive house is another excellent example of our technological advancement in the race against depleting resources and nature. While a passive house emphasizes energy conservation and the idea of trapping energy using proper insulation, it also keeps the health of individuals and the "quality of life" in mind.
According to the Passive House Institute US (PHIUS), homes built to the PHIUS+ 2015 Passive Building Standard consume 865 less energy for heating and 465 less energy for cooling (depending on climate zone and building type) than the standard home.
You must know by now that net-zero homes are fundamentally different. In this scenario, a net-zero home would produce the same amount of energy as it consumes so, in theory, it spends a bit more energy than a passive house.
C. Net Zero Certification
Zero energy certification for net-zero homes was developed by the International Living Future Institute (ILFI) to allow people building net-zero homes to showcase their energy performance and get their project schematics checked and approved by the organization.
According to the ILFI website, this certification celebrates your achievement of accomplishing such a feat, provides a case study for other projects in the quest of zero energy living, and certifies that your building is operational and harnessing energy from renewable resources.
Here's how you can get this certificate:
Register your project on the project registration page.
Once you are registered, submit the documentation of the project as per the following guidelines:

Documentation requirements
Certification fees

After you finish the documentation, their staff will audit your project and approve/disapprove the certification.
2. How much does a net-zero home cost?
It's true that net-zero homes cost more than a standard home because of all the high-tech inputs required. But you'd be surprised to know that they don't cost as much as you may think.
According to a study by Rocky Mountain Institute, the up-front cost to build a net-zero house or zero energy home is about 1 – 8% higher than standard homes. Another study found the cost to be between 2 – 10%. On average, a net-zero version of a $240,000 standard home will cost you $263,500.
The real question is – "Is it worth spending an extra 10% on top of what is already a truckload of money for the same house?" And, the answer is a BIG YES! It's worth every penny.
Another important noteworthy factor is the cost of ownership. The cost of ownership for a net-zero home is considerably less than that of a typical home because of all the energy savings.
A study done by Zero Energy Project shows the difference in cost of ownership shown in the graph below:

This is because of the amount that you'll save on utility every day. In fact, after paying the upfront cost, you'll get "reimbursed" soon enough with a net-zero electricity bill. After that, it's all profit/savings. This is best understood by the HERS index, which measures the energy efficiency of a home.
The HERS Index for a standard modern home has a value of 100 and for an old home is 140. And, as you can guess, the value for a net-zero home is 0.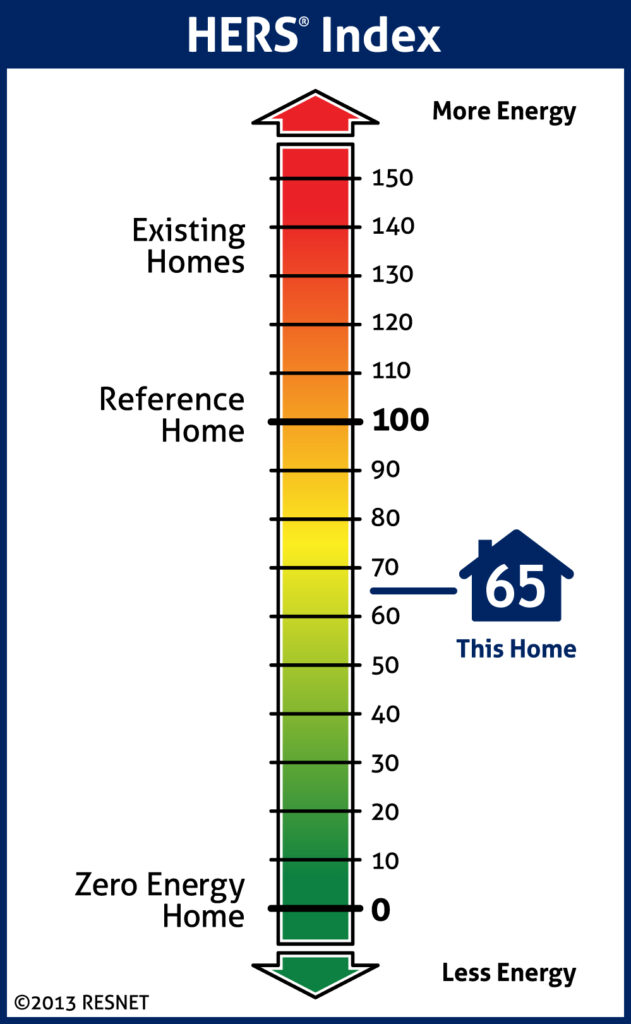 Here's a complete breakdown of each step of building a net-zero home and the costs involved.
A. How to finance a net-zero home?
Financing and mortgages for a net-zero home are identical to the mortgages of a traditional home. You have to follow the same steps and processes to finance a net-zero home as you would do for a traditional home.
However, there is a pretty big catch.
Buyers get incentives, and various subsidies offered by the government when buying a net-zero or zero energy housing.
Here are some of the available incentives for everyone:
Residential Renewable Energy Tax Credit of 22% to cover photovoltaic and solar thermal systems.
Builders can get a $2,000 tax credit for energy-efficient homes built through the end of 2021.
Residential Energy Efficiency Tax Credit gives up to $500 for energy-efficient equipment upgrades in existing homes through the end of 2021.
Here's a complete list of incentives divided by each state.
B. What is an Energy Efficiency Mortgage (EEM)?
Energy Efficient Mortgages can be used by buyers when buying or financing a home that is already zero energy or energy-efficient. EEMs can also help you finance improvements for energy efficiency in existing homes.
The way energy-efficient mortgages work is by taking into account the savings that you (the borrower) will have every week because of the energy efficiency of your house. This will make the lenders ease up the terms in your agreement or help you qualify for a larger loan amount.
You can get to know about the EEMs and the formal process from Energy Star's official website.
3. Why do we need net-zero homes?
Net-zero homes are slowly becoming a necessity rather than a choice because of the damage being inflicted on our environment and natural resources. Using energy-efficient homes will undoubtedly ease the burden. Energy-efficient homes also offer a better quality of life and dramatically minimize your carbon footprint.
Here are some of the important reasons to buy a net-zero home:
Net-zero homes offer a healthier lifestyle with fresh air ventilation circulating your house without leaking because of the insulation. This helps reduce the number of air pollutants in your house.
It saves a lot on your electricity and other bills.
The materials used in building a net-zero home are more durable than traditional homes.
The insulation on the walls and other "exits" prevents any noise from coming in and going out. So, you can live a relatively peaceful life.
Your home is not only low maintenance, but it protects you from the future inflation of energy prices.
4. The Common Problems with Net-Zero Homes
While there are a lot of benefits of owning a net-zero home, there are some downsides as well.
The current trend in the US is against suburban single-family homes since so many people prefer to rent an apartment in cities. So, single-family net-zero homes seem impractical for scaling.
Net-zero homes demand a lot from you. Building one home is quite complex and depends on several factors that might not even be in your hands. For example, you can't have trees around net-zero houses that might shade the solar panels.
Net-zero homes work by sending the electricity back to the grid instead of using less energy in the first place. This is not as efficient as a passive home. Here's a detailed explanation of this issue.
Nevertheless, the benefits outweigh the downsides. Investing in a net-zero home or any other energy-efficient housing alternative is a great opportunity. Get in touch with me for more info on how you can get your net-zero home.